ACE SF DOUBLE

PAGE 17 de 17

Retour à la liste "LIVRES DE POCHE"
En cliquant sur les images ci-dessous vous obtiendrez une version agrandie de celles-ci.
Click on picture to enlarge
SERIE F (suite et fin)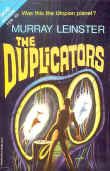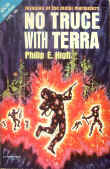 F-275, Mai 1964

THE DUPLICATORS (Lord of the Uffts) par Murray Leinster
Couverture de Jack Gaughan
"Was This the Utopian Planet"

NO TRUCE WITH TERRA par Phillip E. High, couverture inconnu
"Invasion of the Metal Marauders"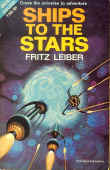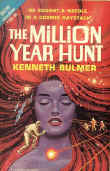 F-285, Juin 1964

SHIPS TO THE STARS par Fritz Leiber, Couverture de Jack Gaughan
Recueil de nouvelles. Comprend les récits suivants :
The Enchanted Forest - Deadly Moon - The Ship Sails at Midnight -
The Big Trek - Dr. Kometevsky's Day - The Snowbank Orbit

THE MILLION YEAR HUNT par Kenneth Bulmer, Couverture de Emsh
"He Sought a Needle in a Cosmic Haystack"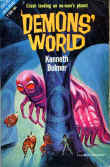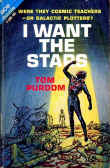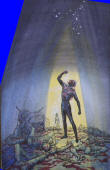 F-289, Juillet 1964

DEMON'S WORLD par Kenneth Bulmer, couverture de Jack Gaughan
"Crash Landing on No-Man's Planet

I WANT THE STARS par Tom Purdon, couverture de Emsh
"Were They Cosmic Teachers or Galactic Plotters"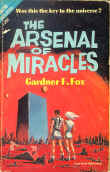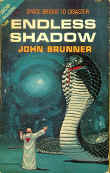 F-299, Août 1964

THE ARSENAL OF MIRACLES par Gardner F. Fox
Couverture imitation Emsh
"Was This the Key to the Universe"

ENDLESS SHADOW (The Bridge to Azrael) par John Brunnner
Couverture de Valigursky
"Space Bridge to Disaster"
Sur cette page se termine la série des Ace SF Double en ma possession. Toutefois cette collection ne s'arrête pas là et continuera jusqu'à Mars 1988. Le dernier volume paru rééditant 2 romans de Marion Zimmer Bradley, "The Planet Savers et The Sword of Aldones". On trouvera ci-dessous quelques titres provenant des séries autres que D et F.
N° 23775 octobre 1969
Couverture : Koutrouboussis
N° 75781 novembre 1971
Couverture : Enrich
N° 93900 mars 1973
Couverture : Llyod (?)
G-609 janvier 1967
Couverture : Jack Gaughan
G-623 avril 1967
Couverture : Morrow
H-59 mai 1968
Couverture : Jack Gaughan
M-109 janvier 1965
Couverture : Jack Gaughan
Couverture : Kelly Freas
Couverture : Enrich
Couverture : ?
Couverture : Kelly Freas
Couverture : Kelly Freas
Couverture : Morrow
Couverture : Jack Gaughan
Ace S-90 - 1955

The Chaos Fighters par Robert Moore Williams

Ace Science Fiction Classic
n° A 4 - Date d'édition non indiquée

The Fellowship of the Ring par J.R.R. Tolkien

Couverture de Jack Gaughan

Ace Science Fiction Classic
n° A 5 - Date d'édition non indiquée

The Two Towers par J.R.R. Tolkien

Couverture de Jack Gaughan

Ace Science Fiction Classic
n° A 6 - Date d'édition non indiquée

The Return of the King par J.R.R. Tolkien
Pages : 1, 2, 3, 4, 5, 6, 7, 8, 9, 10, 11, 12, 13, 14, 15, 16, 17

[introduction] [livres en langue française] [magazines français de SF] [paperback & livres reliés américains] [pulps et magazines américains] [ouvrages de référence] [i romanzi di urania] [liens] [mises à jour]