ACE SF DOUBLE

PAGE 14 de 17
Page précédente -- Page suivante

Retour à la liste "LIVRES DE POCHE"
En cliquant sur les images ci-dessous vous obtiendrez une version agrandie de celles-ci.
Click on picture to enlarge
SERIE F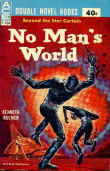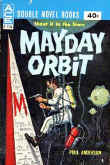 F-104, Juillet 1961

NO MAN'S WORLD par Kenneth Bulmer, couverture de Emsh
"Beyond the Star Curtain"

MAYDAY ORBIT (A message in Secret) par Poul Anderson, couverture de Valigursky
"Shout It to the Stars"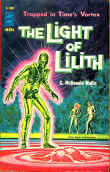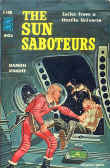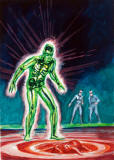 F-108, Août 1961

THE LIGHT OF LILITH par G. McDonald Wallis, couverture de Emsh plus illustration originale
"Trapped in Time's Vortex"

THE SUN SABOTEURS (The Earth Quarter) par Damon Knight, couverture deValigursky
"Exiles From a Hostile Universe"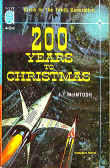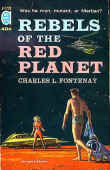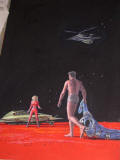 F-113, Septembre 1961

200 YEARS TO CHRISTMAS par J.T. McIntosh, couverture de Valigursky
"Crisis in the Tenth Generation"

REBELS OF THE RED PLANET (The Martian Shore), couverture imitation Emsh plus dessin original
"Wa He Man, Mutant or Martian?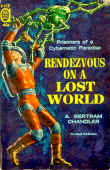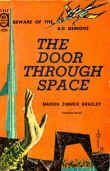 F-117, Octobre 1961

RENDEZVOUS ON A LOST WORLD (When the Dream Dies) par A. Bertram Chandler
Couverture de Emsh
"Prisoners of a Cybernetic Paradise"

THE DOOR THROUGH SPACE (Bird of Prey) par Marion Zimmer Bradley
Couverture imitation Emsh
"Beware of the 4-D Demons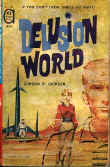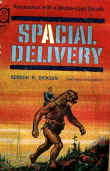 F-119, Novembre 1961

DELUSION WORLD (Perfectly Adjusted) par Gordon R. Dickson
Couverture de Valigursky
"If you don't Look, She'll Go Away!

SPACIAL DELIVERY (The Man in the Mailbag) par Gordon R. Dickson
Couverture imitation Emsh
"Rendezvous with a Double-Sized Goliath"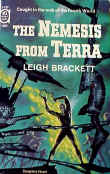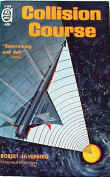 F-123, Décembre 1961

THE NEMESIS FROM TERRA (Shadow Over Mars) par par Leigh Brackett
Couverture de Emsh
"Caught in the Web of the Fourth World"

COLLISION COURSE par Robert Silverberg, couverture de Valigursky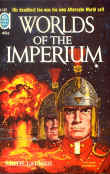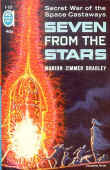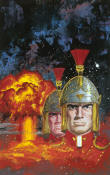 F-127, Janvier 1962

WORLDS OF THE IMPERIUM par Keith Laumer, couverture de Valigurski
"His Deadliest Foe was his Own Alternate World Self"

SEVEN FROM THE STARS par Marion Zimmer Bradley, couverture imitation Emsh
"Secret War of the Space Castaways"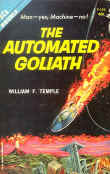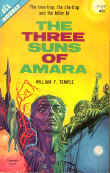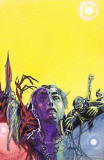 F-129, Février 1962

THE AUTOMATED GOLIATH (Against Goliath) par William F. Temple, couverture inconnu
Man-Yes, Machine-No!

THE THREE SUNS OF AMARA (A Trek to Na-Abiza) par William F. Temple
Couverture imitation Emsh plus illustration originale
"The Tree-Trap, the She-Trap and the Killer Id"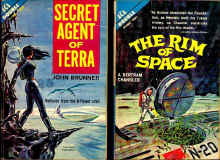 F-133, Mars 1962

SECRET AGENT OF TERRA (The Avengers of Carrig) par John Brunner
Couverture de Emsh
"Vultures from tha A-Power Orbit

THE RIM OF SPACE (To Run the Rim) par A. Bertram Chandler
Couverture de Valigursky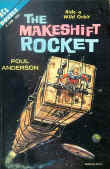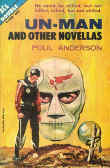 F-139, Avril 1962

THE MAKESHIFT ROCKET (A Bicycle Built for Brew) par Poul Anderson
Couverture de Emsh
"Ride a Wild Orbit"

UN-MAN AND OTHER NOVELLAS par Poul Anderson, couverture de Valigursky
"He Could be Stilled, but not Killed; Killed, but not Stilled"
Recueil de nouvelles. Comprend les récits suivants :
Un-Man - The Live Cowards - Margin of Profit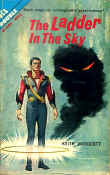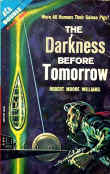 F-141, Mai 1962

THE LADDER IN THE SKY par John Brunner, couverture de Valigursky
"Black Magic - or unimaginable super-science?"

THE DARKNESS BEFORE TOMORROW par Robert Moore Williams
Couverture imitation Emsh
"Were all Humans Their Guinea Pigs?"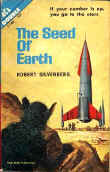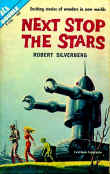 F-145, Juin 1962

THE SEED OF EARTH (The Winds of Siros) par Robert Silverberg
Couverture de Valigursky
"If your Number is Up, You Go to the Stars"

NEXT STOP TO THE STARS par Robert Silverberg, couverture imitation Emsh
Recueil de nouvelles. Comprend les récits suivants :
Warm Man - Blaze of Glory - Hopper - The Songs of Summer
Slave of the Stars Giants
Page précédente -- Page suivante
Pages : 1, 2, 3, 4, 5, 6, 7, 8, 9, 10, 11, 12, 13, 14, 15, 16, 17

[introduction] [livres en langue française] [magazines français de SF] [paperback & livres reliés américains] [pulps et magazines américains] [ouvrages de référence] [i romanzi di urania] [liens] [mises à jour]