ACE SF DOUBLE

PAGE 5 de 17
Page précédente -- Page suivante

Retour à liste Livre de Poches
En cliquant sur les images ci-dessous vous obtiendrez une version agrandie de celles-ci
Click on picture to enlarge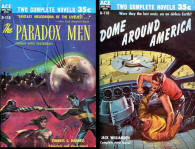 D-118, Août 1955

THE PARADOX MEN (Flight Into Yesterday) par Charles L. Harness,
Couverture de Richard Powers
He Was a Contradiction of the Laws of Science

DOME AROUND AMERICA (Gateway to Paradise) par Jack Williamson, Couverture de Valigursky
Were They the Last Oasis On an Airless Earth ?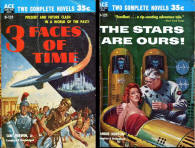 D-121, Octobre 1955

THREE FACES OF TIME (Journey to Misenum) par Sam Merwin, Jr., couverture de Valigursky
Present and Future Clash In a World of the Past

THE STARS ARE OURS par Andre Norton, Couverture de Valigursky

THE MAN WHO UPSET THE UNIVERSE (Foundation and Empire) par Isaac Asimov
Couverture de Valigursky
Defeat at the Very Moment of Cosmic Victory !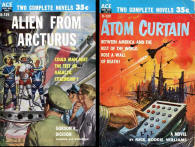 D-139, Janvier 1956

ALIEN FROM ARCTURUS par Gordon R. Dickson, Couverture de Valigursky
Could Man Meet the Test of Galactic Citizenship

THE ATOM CURTAIN par Nick Boddie Williams, Couverture de Valigursky
Between America and the Rest of the World Rose a Wall of Death !
Page précédente -- Page suivante
Page : 1 2 3 4 5 6 7 8 9 10 11 12 13 14 15 16 17

[introduction] [livres en langue française] [magazines français de SF] [paperback & livres reliés américains] [pulps et magazines américains] [ouvrages de référence] [i romanzi di urania] [liens] [mises à jour]