ACE SF DOUBLE

PAGE 6 de 17
Page précédente -- Page suivante

Retour à la liste livres de poche
En cliquant sur les images ci-dessous vous obtiendrez une version agrandie de celles-ci
Click on picture to enlarge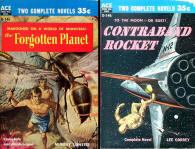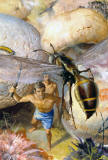 D-146, Février 1956

THE FORGOTTEN PLANET (The Mad Planet) par Murray Leinster, Couverture de Robert Schulz and original cover drawing
Marooned on a World of Monsters

CONTRABAND ROCKET par Lee Correy, Couverture de Valigursky
To the Moon, or Bust!

D-150, Mars 1956

THE WORLD JONES MADE par Philip K. Dick, Couverture de Schulz
To Him the Future was an Open Book

AGENT OF THE UNKNOWN (Vulcan's Doll) par Margaret St. Clair, Couverture de Valigursky
Ha he Found the Key to Mutation?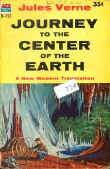 D-155, Avril 1956
JOURNEY TO THE CENTER OF THE EARTH par Jules Verne, Couverture inconu
Voyage au Centre de la Terre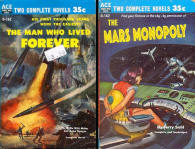 D-162, Mai 1956

THE MAN WHO LIVED FOREVER (The Master Shall not Die) par R. DeWitt Miller, Couverture de Meltzoff (?)
His First Thousand Years Were the Easiest!

THE MARS MONOPOLY par Jerry Sohl, Couverture de Valigursky
Find your Fortune in the Sky, by Permission of......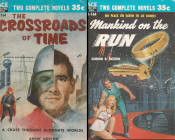 D-164, Juin 1956

THE CROSSROADS OF TIME par Andre Norton, Couverture de Valigursky
A Chase Through Alternate Worlds

MANKIND ON THE RUN par Gordon R. Dickson, Couverture de Valigursky
No Place On Earth To Lie Down
Page précédente -- Page suivante
Page : 1 2 3 4 5 6 7 8 9 10 11 12 13 14 15 16, 17

[introduction] [livres en langue française] [magazines français de SF] [paperback & livres reliés américains] [pulps et magazines américains] [ouvrages de référence] [i romanzi di urania] [liens] [mises à jour]