ACE SF DOUBLE

PAGE 7 de 17
Page précédente -- Page suivante

Retour à la liste "LIVRES DE POCHES"
En cliquant sur les images ci-dessous vous obtiendrez une version agrandie de celles-ci
Click on picture to enlarge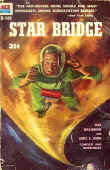 D-169, Juillet 1956
STAR BRIDGE par Jack Williamson & James E. Gunn, Couverture Valigursky
They Caught a Universe in their Net

Voir annexe en fin de page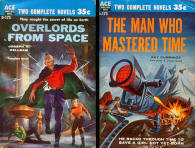 D-173, Août 1956

OVERLORDS FROM SPACE par Joseph E. Kelleam, Couverture de Valigursky
They sought the Secret of Life on Earth

THE MAN WHO MASTERED TIME par Ray Cummings, Couverture de Valigursky
He raced through Time to save a Girl not yet born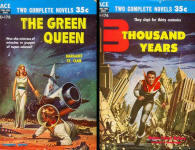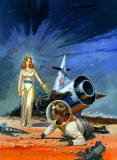 D-176, Septembre 1956

THE GREEN QUEEN (Mistress of Viridis) par Margaret St. Clair, Couverture Valigursky and original cover art
Was she Mistress of Miracles or Puppet of Super-Science

THREE THOUSAND YEARS par Thomas Calvert McClary, Couverture de Valigursky
They Slept for Thirty Centuries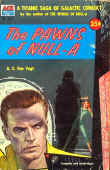 D-187, Octobre 1956
THE PAWNS OF NULL-A (The Players of A) par A.E. Van Vogt, Couverture de Valigursky
The Unseen Player in the Game of Worlds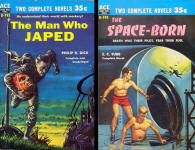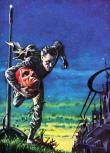 D-193, Décembre 1956

THE MAN WHO JAPED par Philip K. Dick, Couverture de Emsh
He Undermined their World with Mockery

THE SPACE-BORN par E.C. Tubb, Couverture de Valigursky
Death was their Pilot, Fear their Fuel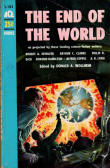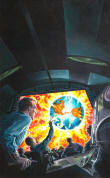 S-183, Octobre 1956
THE END OF THE WORLD anthologie de Donald A. Wollheim
Couverture de Emsh
Contient les récits sujivants :
The Year of the Jackpot • (1952) • novelette by Robert A. Heinlein
Last Night of Summer • (1954) • short story by Alfred Coppel
Impostor • (1953) • short story by Philip K. Dick
Rescue Party • (1946) • novelette by Arthur C. Clarke
Omega • (1932) • short story by Amelia Reynolds Long
In the World's Dusk • (1936) • short story by Edmond Hamilton

Star Bridge, un grand classique réédité en mai 2010 par la maison "Les Moutons Electriques". Ce roman primitivement paru en 1958 dans la collection "Les Cahiers de la Science-fiction" des éditions Satellite m'avait fortement impressionné lors de sa première lecture. C'est bien sûr un Space Opera et il en est l'archétype parfait Il possède cependant des qualités au niveau de l'intrigue, du style et de l'écriture qui le place loin devant les autres romans de la même veine. On n'oubliera pas les péripéties du mercenaire Alan Horn chargé de tuer le puissant directeur de la compagnie de transport gérant les tubes, système en toile d'araignée permettant d'abolir les distances entre les différentes planètes de la Galaxie et, Eron le siège de l'empire galactique.
Page précédente -- Page suivante
Page : 1, 2, 3, 4, 5, 6, 7, 8, 9, 10, 11, 12, 13, 14, 15, 16, 17

[introduction] [livres en langue française] [magazines français de SF] [paperback & livres reliés américains] [pulps et magazines américains] [ouvrages de référence] [i romanzi di urania] [liens] [mises à jour]