ACE SF DOUBLE

PAGE 15 de 17
Page précédente -- Page suivante

Retour à la liste "LIVRES DE POCHE"
En cliquant sur les images ci-dessous vous obtiendrez une version agrandie de celles-ci.
Click on picture to enlarge
SERIE F (suite)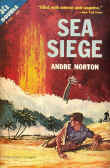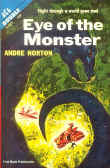 F-147, Juillet 1962

SEA SIEGE par Andre Norton, couverture de Valigursky
"Menace from the Ocean's Floor"

EYE OF THE MONSTER par Andre Norton, couverture imitation Emsh
"Flight Through a World Gone-Mad"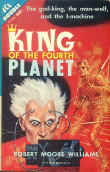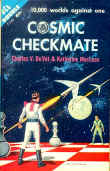 F-149, Août 1962

KING OF THE FOURTH PLANET par Robert Moore Williams
Couverture imitation Emsh
"The God-King, the Man-Wolf, and the I-Machine"

COSMIC CHECKMATE (Second Game) par Charles Van de Vet
Couverture de Valigursky
"10 000 Worlds Against One"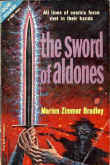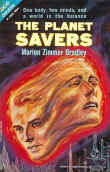 F-153, Septembre 1962

THE SWORD OF ALDONES par Marion Zimmer Bradley
Couverture imitation Emsh
"All Lines of Cosmic Force Met in Their Hands"

THE PLANET SAVERS PAR Marion Zimmer Bradley
Couverture de Emsh
"One Body, Two Minds and the World in the Balance"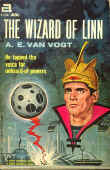 F-154 (Simple), Septembre 1962
THE WIZARD OF LINN par A.E. Van Vogt
Couverture de Valigursky
"He Tapped the Voice for Unheard-of Powers"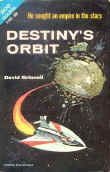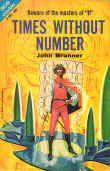 F-161, Octobre 1962

DESTINY'S ORBIT par David Grinnell, couverture de Valigursky
"He Sought an Empire in the Stars"

TIMES WITHOUT NUMBER par John Brunner, couverture de Jack Gaughan (1)
"Beware of the Masters of "If"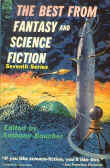 F-162 (simple), Octobre 1962
THE BEST FROM FANTASY AND SCIENCE-FICTION édité par Anthony Boucher
Anthologie, couverture inconnu
Recueil de nouvelles. Comprend les récits suivants :
The Wines of Earth par Idris Seabright - Adjustment par Ward Moore
The Cage par A. Bertram Chandler - Mr. Stilwell's Stage par Avram Davidson
Venture to the Moon par Arthur C. Clarke - Expedition par Fredric Brown
Rescue par G.C. Edmondson - Between the Thunder and the Sun par Chad Oliver
A Loint of Paw par Isaac Asimov - The Wild Wood par Mildred Clingerman - Dodger Fan par Will Stanton
Goddess in Granit par Robert F. Young - Ms. Found in a Chinese Fortune Cookie par C.M. Kornbluth
Journey's End par Poul Anderson - The Big Trek par Fritz Leiber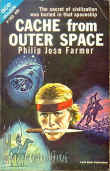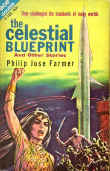 F-165, Novembre 1962

CACHE FROM OUTER SPACE par Philip José farmer
Couverture imitation Emsh
"The Secret of Civilization Was Buried in that Spaceship"

THE CELESTIAL BLUEPRINT and Other Stories par Philip José Farmer
Couverture de Emsh
Recueil de nouvelles. Comprend les récits suivants :
Rastignac the Devil - The Celestial Blueprint - They Twinkled Like Jewels
Totem and Taboo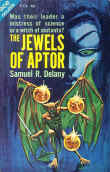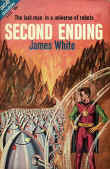 F-173, Décembre 1962

THE JEWELS OF APTOR par Samuel R. Delany, couverture de Jack Gaughan
"Was their Leader a Mistress of Science or a Witch of Mutants?"

SECOND ENDING par James White, couverture inconnu
"The Last Man in a Universe of Robots"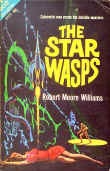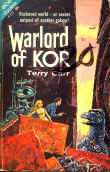 F-177, Janvier 1963

THE STAR WASPS par Robert Moore Williams, couverture inconnu
"Cybernetic Men Versus the Invisible Monsters"

WARLORD OF KOR par Terry Carr, couverture imitation Emsh
"Backward World, or Secret Outpost of Another Galaxy?"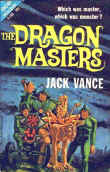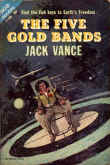 F-185, Février 1963

THE DRAGON MASTERS par Jack Vance, couverture de Jack Gaughan
"Which was Master, Which was Monster?"

THE FIVE GOLD BANDS par Jack Vance, couverture de Valigursky
"Find the Five Keys of Earth's Freedom"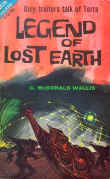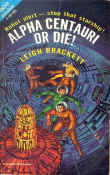 F-187, Mars 1963

LEGEND OF LOST EARTH par G. McDonald Wallis, couverture inconnu
"Only Traitors Talk of Terra"

ALPHA CENTAURI -- OR DIE! (The Ark of Mars) par Leigh Brackett
Couverture de Jack Gaughan
"Robot Alert -- Stop that Starship!"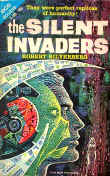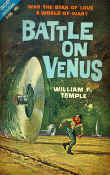 F-195, Avril 1963

THE SILENT INVADERS par Robert Silverberg, couverture de Emsh
"They Were Perfect Replicas of Humanity"

BATTLE ON VENUS (Immortal's Playthings) par William F. Temple
Couverture de Valigursky
"Was rhe Star of Love, a World of War?"
Page précédente -- Page suivante
Pages : 1, 2, 3, 4, 5, 6, 7, 8, 9, 10, 11, 12, 13, 14, 15, 16, 17

[introduction] [livres en langue française] [magazines français de SF] [paperback & livres reliés américains] [pulps et magazines américains] [ouvrages de référence] [i romanzi di urania] [liens] [mises à jour]